Brief History.
The Booklet. 42 peaks
The story of the Bob Graham Round. can be brought from;
Pete Bland Sports. 34A, Kirkland.
Kendal. Cumbria.
LA9 5AD. Tel; 01539 731012
---
Bob Graham was brought up in Houghton in Carlisle and as a young man worked as a gardener, first in Carlisle and then in Keswick. At the time of the record attempt he was running a guest house in Keswick. Bob loved nothing more than long walks on the fells, the only training he and his friends undertook before their record round, was to take regular extended fell walks some times lasting right through the night.
There is some doubt as to Grahams age when he made the round in June 1932 but Phil Davidson, the last survivor of Grahams quartet of pacers said that the 42 peaks represented one of each year of Bobs life. He also said that the extra peak added after the unsuccessful attempt in 1931 was Great Calva.
Bob did his round in tennis shoes, long shorts, and pyjama jacket. His food was bread and butter, a lightly boiled egg and plently of fruit and sweets for energy.
He believed that anyone fit and well prepared could do the same round, but his record was to stand for 28 years. There were other attempts made between 1932 - 1960, by many tough walkers around, but few poeple set out to run over the fell. Then an article in the Lancashire Evening Post, caught the imagination of two Clayton-Le-Moors Harriers, Alan Heaton and Ken Heaton. With the knowledge and love of the Lakeland Fells this was something they could have a go at.
So in June 1960 they were joined on the attempt by Stan Bradshaw a veteran of 48 years old. Sadly only Alan Heaton finished in a time of 22hrs.-18 mins. Stan Bradshaw had anther try two weeks later and succeded
This was the end of one era and the start of anther no one could have envisaged how many would follow them round the 42 peaks circuits in the next 30 years.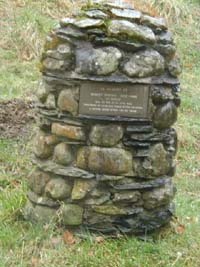 Commemorative plaque/cairn
in memory of Bob Graham.
THE BOB GRAHAM 24 HR CLUB.
The Bob Graham round of 42 Lake District fells traversed within 24 hours is probably the most demanding test of physical fitness available to British Athletes or mountaineers. The rules for the Bob Graham 24 hour club state that the round can be attempted either clockwise or anti-clockwise. provided that the start and finish is at Moot Hall, Keswick.
You must register your attempt and which way round you intend to go, C/W or AC/W with the Bob Graham 24 hr Club. They will then send you a form for ratifcation of times and witnesses.
The Gen Secretary is ;
( Membership Secretary ) Brian Covell. 26 Westwood Avenue. Kendal. Cumbria. LA9 5BB.
---
FRED ROGERSON.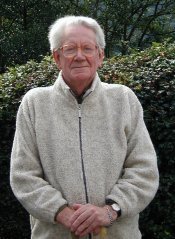 I could not end this article with-out mentioning Fred Rogerson. Fred himself was a walker, who had read about Bob Graham epic in a bi-monthly. - The Journal Of The Open Air. " Out Of Doors " Sept-Oct 1948 Issue. Fred has been involved in the B.G.R. from the start, Fred and his wife Margaret were part of the support team in 1960, in which Marice Collet, Paul Stewart, Frank Carradus ( Marice and Paul were attemping their second attempt,) and had invited Stan Bradshaw to join them . ( Stan's second attempt as well ) Unfortunately only Stan Bradshaw finished the round in under 24 Hrs.
Fed started to keep records of all B.G.R. attempts from 1960, and in 1971 Harry Griffin and Fred had the idea to form the Bob Graham 24 HR Club. ( objectives of the club, see Booklet ) Fred was Membership Secretary and Statistition up till present, but now has passed on most of the work to other committee members. Fred has been a great inspiration to all, with his encouragment and advice. Fred can still be found waiting at one of the Road/Crossings to see you come through.